The UK's biggest agricultural trailer manufacturer, Bailey Trailers of Lincolnshire, is now using British-made HMG industrial paints, supplied by the county's leading motor factor, Fisher, to achieve a first-class finish on its latest product lines. The high gloss coating is a one-pack polyurethane topcoat in characteristic Bailey green, which produces trailer and chassis paintwork of commercial vehicle standard.
Apart from paint, what links these three companies is that all are family-owned concerns, competing successfully in their respective markets and delivering levels of quality and service that are increasingly difficult to find. After 28 years of pioneering trailer design, Bailey's has just moved to a new 50,000 square feet factory in Sleaford, giving scope to increase annual production to a thousand units. Established in 1990, Fisher Motor Factors is now considered to be one of the region's foremost suppliers of automotive, commercial and industrial paint, numbering Bailey Trailers amongst its clients. While HMG Paints of Manchester enters its eightieth year looking to become No 1 in industrial coatings, echoing its market leadership in the commercial transport sector.
The three names came together when Ian Prior, a recent addition to HMG's technical sales team, renewed contact with Fisher's General Manager, David Conley, and learnt that supply issues meant that there could be an opening on the Bailey Trailers paint contract. HMG produces a two coat system, comprising its SBL zinc phosphate primer and 14 Line polyurethane topcoat, that was ideal for the application, so back-to-back trials were arranged.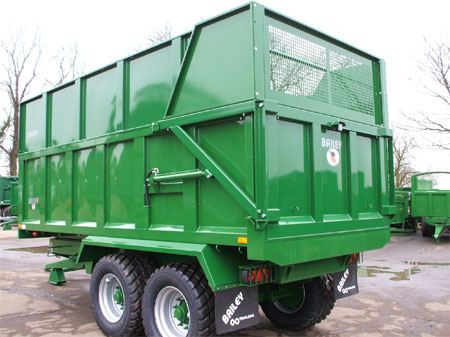 "It proved to be a good business move, the finish was exactly what was needed and there was a smooth transition in the supply chain," says David Conley. "At agricultural shows people assume the topcoat is a two-pack product, which indicates how impressive HMG's one-pack polyurethane really is. Also, being a family business like ourselves and Bailey's, they are really switched onto what the customer needs, which is quite unlike dealing with the usual corporates."
HMG's 'superior build and levelling' (SBL) commercial transport primer is an alkyd phenolic-based coating, with excellent flow and levelling properties and outstanding corrosion protection due to the incorporation of modified zinc phosphate. Applied by airless spray to Bailey's trailer chassis and bodies, it provides a good, smooth surface for overcoating with HMG's 14 Line 1k polyurethane; a high build, high solids topcoat based on a unique blend of polyurethane alkyd, this has a long wet-edge time and produces a finish with outstanding gloss and long-term durability.
Bailey Trailers manufactures around twenty trailers every week, each unit requiring some 20 litres of primer and 20 litres of 1k polyurethane, with an hour between coats and a brushing additive included in the topcoat for a superior finish.
"David arranged for us to visit Bailey Trailers and there were around 25 new trailers ready for despatch in the yard, the majority of which were painted with HMG coatings. The finish was most impressive and certainly of commercial vehicle standard," says Ian Prior. "The switch seems to be good news for all three parties, Bailey, Fisher and HMG, and it shows that we can compete on even terms with the current brand leader."
Enquiries to HMG Paints at Riverside Works, Collyhurst Road, Manchester M40 7RU, telephone 0161 205 7631, email sales@hmgpaint.com
Follow @HMGpaints