World renowned British Motorsport and Advanced Technology business Prodrive is entering the last stages of its facility move across the road, to a new factory opposite their headquarters of 30 years in Banbury, UK.
After being handed the keys to the new site in April of 2015, Prodrive called upon technical partners HMG Paints to produce a system of paints to coat and protect the 110,000 sq ft headquarters. "During 2015, Prodrive moved its operation after nearly 3 decades in the same location within Banbury, which over those times built and operated some of the highest level competition cars in the world. One of our partners during that period was HMG who supplied paint products for all our competition car builds." said Paul Howarth – Prodrive's Director of Motorsport Operations.
The versatile Decorative Range offered by HMG Paints includes emulsions, masonry paints, road line paints and water resistant coatings that are easy to apply and durable but also retain their colour. The range of products has been specified for use on a number of new build, redecoration and historical renovation projects.
"Prodrive are known for their advanced technologies and we are proud to be introducing our new decorative range with our own advanced technologies in to such an impressive modern purpose built facility. We enjoyed working closely with Prodrive throughout the project, from specifying the correct products for each area of the facility, to selecting the ideal colours." Said John Fenton – HMG Paints' Special projects Director.
The new facility is Prodrive's third headquarters having originally been based at Silverstone in 1984, before moving to Banbury in 1986. The factory comfortably facilitates both Prodrive's racing and rally Motorsport business and its Advanced Technology, automotive, defence, aerospace and marine projects. The larger site offers efficient working space for the variety of jobs taking place, from Aston Martin race and MINI rally cars being assembled, to the design and construction of centre console modules for luxury cars to the assembling of control systems for racing yachts. A team of experienced laboratory specialists at HMG specifically selected the various coatings to suit the array of activities throughout the building from hard wearing yet economical, polyurethane floor coatings to high quality decorative emulsion with fast drying times.
Paul Howarth was particularly glad of HMG's expertise and resilience throughout the project, saying "Our partner HMG were also involved in our new factory build by supplying product for the finishing's of the building, which included all office & workshop areas with both wall & floor paints. This has meant the new building has been completed to a very high standard. The move offered many challenges, but HMG's pro-activeness and being involved was a big part to the jigsaw. " said Paul Howarth – Prodrive's Director of Motorsport Operations.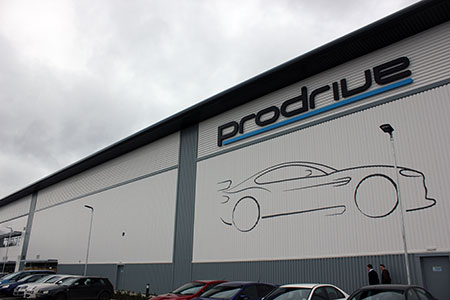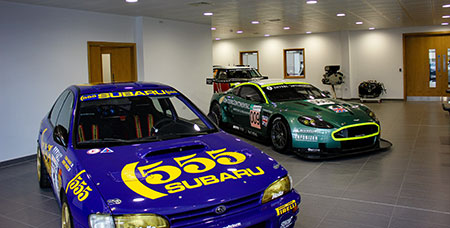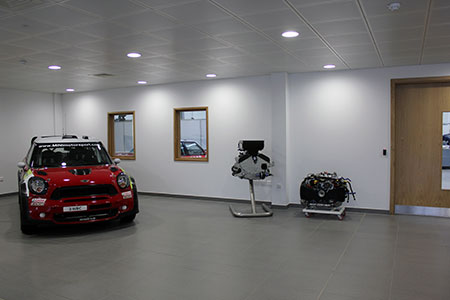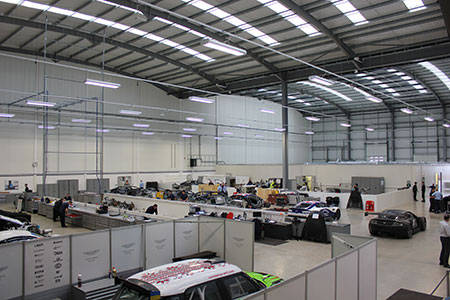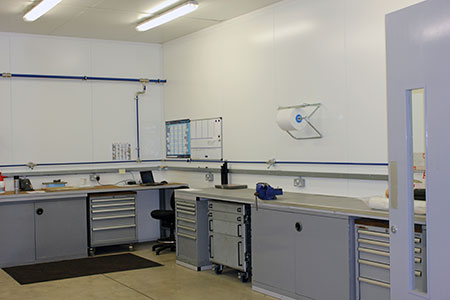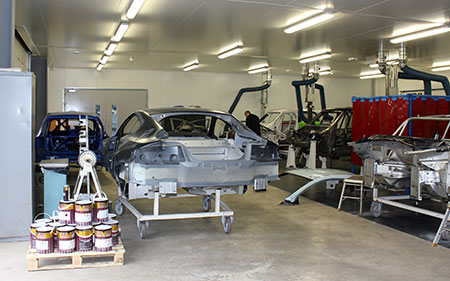 Gracienne Ikin or Stephen Dyson
HMG Paints
Communications
gikin@hmgpaint.com or sdyson@hmgpaint.com
0161 205 7631