HMG Paints is entering its biggest team ever in the BUPA Great Manchester Run, the UK's largest 10k run with an expected 33,000 participants. The team of 44 staff, family and friends includes 17 first timers, 15 competing for the third successive time, brothers and sisters, and marital partners. After raising more than £6,000 for charity over the previous two events, Team HMG is this year running for two worthy causes, Breakthrough Breast Cancer (http://breakthrough.org.uk/) and the Prostate Cancer Charity (http://www.prostate-cancer.org.uk/), and will compete in specially printed T-shirts, emblazoned with the HMG logo and charity symbols. The oldest team members will be 61 year old Martyn Binnington and 59 year old Maggie McDermott, while Sarah Newton is attempting to beat the hour mark, just three years after breaking her back.
"We are supporting Breakthrough because our rep Steve Rawson's wife, Babs, had breast cancer recently and thankfully now has the all clear," says HMG's marketing manager, Paddy Dyson, one of the third timers, who last year finished in 56:15. "We also employ quite a number of men, so there was also a lot of interest in supporting prostate cancer research."
Although unlikely to beat Haile Gebrselassie's 2009 winning time of 27:39, newly-appointed HMG board director Steve Crossman holds the team record of 36:10. This time he will probably be challenged by lab technician Colin Foster (42:47), aerosol worker Mark Boardman (42:58), production guy John Rutter (45:27), stoving department foreman Neil Dawes (46:19) and Byotrol's Andy Benton (46:58).
Mark Boardman will also look to become top dog in HMG's Aerotube aerosol department race once again, although he expects stiff competition from Darren James (45:42), Jamie Crawford (47.25), Anthony Kenyon (49:45) and first timer David Sullivan, who is also the youngest competitor. David's mum Alison Sullivan (1:30;24) is more intent, however, on getting her make-up right for the BBC TV cameras filming the event.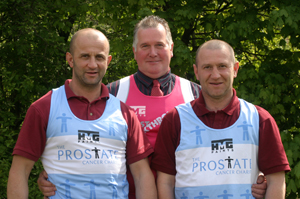 Former schoolboy champion, sales manager Danny Cleary is hoping to restore his athletic reputation by dipping under the hour mark this time, while new boy Sam Gaunt, fresh from Manchester Business School, will be keen to make an impression Another new employee, Lee Williams is hoping to beat his brother, foreman Russ Williams (1:01:16), and brother-in-law John Mercer (also 1:01:16), PA Pam Andrews and her husband Paul are competing together, as are purchase ledger clerk Sarah Bateman (1:09:21) and husband-to-be Gareth Woods, while Paddy Dyson has recruited girlfriend Barbara Ann Flaherty.
There are three Newton siblings in the team, with Mike (59:20) competing against recovered back victim Sarah (1:14:40) and their brother, Paul, whose daughter Lauren was last year's youngest entrant. Then there's another departmental battle between Maggie McDermott (1:29:50), Nicole Regan (1:30:24) and first timer Caroline Quinn, from HMG's trade counter. Plus a final shout for production manager Maxine Murray, who ran last year (1:14:41) but didn't get a mention in the roundup!
"Later this year, we shall be celebrating HMG's 80th anniversary, so it's doubly rewarding to see a record number of our staff entering the Great Manchester Run, the city's biggest money-raising event," says HMG Paints MD, John Falder. "Unfortunately, I shall be away in the States on business, otherwise I would have loved to have joined them. Mind you, I said the same last year .. And the year before, come to think of it."