England flags, the red Cross of St George, are seemingly flying everywhere in the build-up to the World Cup. They are fluttering from BMWs and bangers, white vans, taxis, baby buggies, front windows, even specially erected flagpoles. One supermarket even had to withdraw its ban on delivery drivers displaying the flag on their cabs.
But one fervent Manchester firm, paintmaker HMG, has gone a huge step further in registering its support for Beckham and the team. It has repainted its on-site sculpture, a massive upended submarine seemingly emerging from the ground, in pure white and emblazoned a giant St George Cross along its length. With the whole England squad staying nearby in the city centre, it is hoped that they will draw further encouragement from this outsized sign of support.
Originally sculpted from mild steel by Manchester artist Jonathan Woolfenden and embedded in ten tons of concrete, this distinctive example of public art is entitled 'Dreadnowt', a pun on the Dreadnought-class battleship, which translates as 'Fear Nothing'. It's a suitably inspiring message for the England lads, as they get ready to face Paraguay and hopefully progress through to the final. HMG's sculpture was installed almost exactly fourteen years ago and is a familiar landmark in the Collyhurst area of Manchester. Until now, it has been presented in 'raw steel', protected from corrosion by HMG's high performance coatings, and this is the first time it has been painted. It will remain in its patriotic livery for the duration of the tournament, before being returned to its customary battleship steel.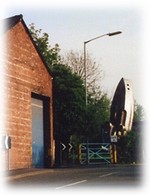 "There's been some dispute in the quality press about whether sporting a St George's flag is socially acceptable," says HMG Paints MD, John Falder. "Well we might be regarded as non-U, but we're all right behind England and wanted to show our support in the biggest possible way. "And, by the way," he adds, "it has nothing to do with the war. Dreadnowt is described by the artist as an absurd piece of Jules Verne-style imagery, symbolising 'emergence', so the FA needn't get hot under the collar!"
Further enquiries to:
HMG Paints
Riverside Works
Collyhurst Road
Manchester
M40 7RU
Telephone 0161 205 7631
email
sales@hmgpaint.com