A 10-year vintage bus restoration project has been completed at last by staff and students at a Liverpool specialist technology and language college, St Margaret's Church of England High School, using high performance coach enamels provided by HMG Paints of Manchester, itself the No1 coatings supplier to the UK bus and coach industry. There is a strong Manchester association, since the 60 year old bus was originally built by a Manchester motor vehicle manufacturer, Crossley Motors, famed for the best-selling 'Mancunian' single and double decker buses that plied the city's streets from the 1930's.
There is also an interesting Christian association, since St Margaret's upholds all the principles that underpin a Christian school, as part of the church's service to the Diocese of Liverpool; while the Crossley Brothers, founders of the vehicle makers, were themselves committed Christians, who refused to supply their vehicles to breweries and adopted the early Christian symbol of the Coptic cross, as their bonnet emblem.
Recently a recipient of the prestigious Full International School Award in recognition of its excellence in international teaching and learning, St Margaret's CE High School in Aigburth Road was established in 1879 and is now a dual specialist school, having been awarded both Technology and Language College status. It has run a Transport Society, or 'bus club', since 1971, to give students hands-on experience of structural and mechanical restoration. Its latest project was a Southport Corporation 1951 Crossley single deck, half-cab bus, the only surviving example of its kind, although previously it restored a 1949 Leyland Tiger PS1 coach, which was also refurbished using HMG coach enamels, undercoat and primer.
The school is registered with the National Association of Road Transport Museums and, over the years, has received technical help from Manchester's Museum of Transport, one of the country's largest collections of vintage buses and coaches, which uses and highly recommends HMG paints. So Deputy Headmaster, John Wilkinson, who runs the bus club, approached the Collyhurst coatings company for support, back in 1999. Since then, it has supplied more than 100 litres of refinishing products at highly preferential rates, welcoming the opportunity to showcase the important preservation and decorative functions of paint.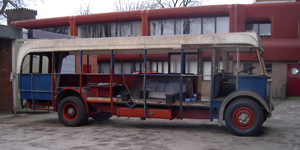 John Wilkinson, who has a long-term interest in buses and coaches, found the dilapidated Crossley bus mouldering in a field in Chesterfield and, having first offered it to a county museum, the school decided to undertake the restoration itself, starting in 2002. The fortnightly Transport Society originally worked on old cars and motor cycles, but John found that buses offered far more scope for students to get involved, typically involving a dozen or so each session. He also has the expert help of Senior Caretaker, Campbell Dean, a time-served coach painter, and the school's Design Technician, Peter Pendleton, who reconstructed all the bus' internal woodwork, from templates produced by students.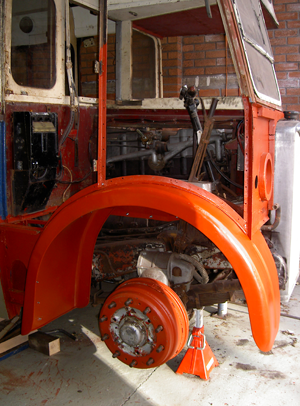 Having stripped out the seating and interior components down to the composite framework, the bus club produced new aluminium body panels and sourced a genuine replacement bonnet and engine cover from a fellow enthusiast in Oldham. The final paintwork itself took a total of nine months to apply, employing two full coats of undercoat and three of gloss topcoat. In addition to traditional Coach Enamel for detailed work, HMG supplied DG142 Synthetic High Quality Primer/Undercoat and SAH300 Polyurethane Enamel for the larger panels, both of which were originally developed for leading bus operator Stagecoach and together produce an unbeatable, high gloss finish.
These products are especially formulated for brush application, with a long wet edge time and no bristle drag, and according to John Wilkinson enabled an outstanding handpainted finish: "Campbell achieved a superb gloss appearance and if you can see any brush marks, I'll give you a sticky bun," he says. "We've since taken the vehicle to the MOT testing depot, where people are used to seeing modern buses, and they have been amazed by the standard of the paintwork. When he was a professional coach painter, Campbell used to swear by a traditional brushing topcoat that's no longer readily available, but now he insists that the HMG system is even better."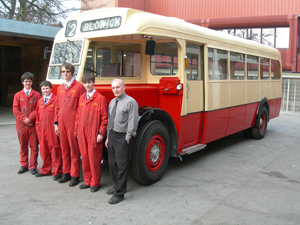 The school's Crossley SD42, one of a range of models built between 1947 and 1952 that was once the subject of Britain's biggest bus export order, is finished in the Southport Corporation livery of Ayres Red and Ivory, matched to the original paintwork by HMG's skilled colour technicians. The earlier Leyland Tiger single deck coach is painted Azure Blue and Cream and together these classic vehicles present a memory-provoking nostalgic sight.
A licensed PSV driver, John has already taken bus club students on short local trips, but mostly the Crossley will be reserved for rallies and historic transport displays. As an exercise in practical hands-on training for technology students, it couldn't be bettered.