Scotland based Mancunian artist, Max Hague, will be returning to HMG Paints Ltd to showcase a selection of his highly original modern paintings entitled 'Our World'.
Max initially embarked on an experimental residency at HMG's site in Collyhurst, Manchester in 1999. Here, he was given unrivalled access to commercial enamels and acrylics, and developed a deeper understanding of colour technology and coatings manufacture. Max credits this invaluable experience with inspiring a radical transformation in his working practices.
Max says, "The sheer beauty of the materials and the versatile way the paint pigmentation interacted, guided my experiments into new and exciting painterly applications. New doors were opening up, and images of great power were gifted to me in abundance. It did not take long for me to realize that my work had entered a seminal period, whereby there was no way back to expressing my own personal agenda".
HMG Paints is the UK's largest independent industrial coatings manufacturer and represents an ideal location for Max to experiment with colour and hone his creativity and technique. With an on-site colour laboratory housing the most sophisticated colour matching equipment and a library containing over 250,000 different shades that have been recorded and collated for the last 84 years, HMG has a unique understanding of colour.
Max has lead a fascinating career, and has seen his works displayed at exhibitions throughout the UK, Europe and America. Alongside showcasing his work at the Scottish National Gallery of Modern Art in Edinburgh, In 2009 Satish Kumar editor of Resurgence Magazine invited Max to feature his work 'climate change' in the 'Apostles of Beauty' Issue to coincide with the international climate change conference in Copenhagen. His paintings are powerful and fascinating and visually simulate the random atmospheric conditions we all experience. The works focus within a natural realm and often reflect the real weather events that are taking place in our world.
Max says: "Within my working practice, there are no expectations or efforts to control or impose myself on the work, simply a flowing participation of trust, faith and willing compliance with the creative process. Invariably the experience connects me to a vast and unifying reality within the natural scheme of things. Often the images resemble satellite photos of the planet, and occasionally pictures have come through which have an almost prophetic connection to the natural climatic events which happen in our world."
John Falder, Managing Director at HMG Paints and President of the British Coatings Federation, "At HMG paints, we have always supported the local artistic community in Manchester and provided Max with a platform to explore and showcase his extraordinary talent. We are honoured that Max has chosen to display his fascinating works of art at our site in Manchester and encourage the public to visit the exhibition."
With part of the collection HMG will be gifting its long term key Business Partners with specially selected pieces. Last month John Falder personally presented the first gifted painting to Doodsons Managing Director Neil Clayton. The piece named "Synergies" was specifically chosen by John for its similarity in colour to their corporate colours. John said, "I personally picked it out of a small collection of paintings that HMG own as it combines a number of elements. Firstly the synergy between HMG and Integro/ Doodson to the violet colour that is the corporate colour of Doodson"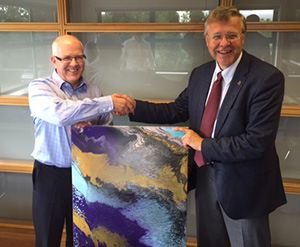 If you require further information on the press release, please contact:
Stephen Dyson or Gracienne Ikin
HMG Paints
Communications
sdyson@hmgpaint.com gikin@hmgpaint.com
0161 205 7631