HMG Paints Ltd, The UK's largest independent paint manufacturer, launch the company's first ever E-Commerce store, as they reveal steps to becoming a market leading, omni-channel brand, enhancing consumer experience. Launching with HMG's Decorative coatings collection, other product ranges will be added as part of future growth plans. Founded in 1930, the company believe that now is the time to take the leap in to online sales in what is a fast-growing digital economy. Sign up to the HMG Trade Professional Club for 20% off all orders.
Click here to visit - shop.hmgpaint.com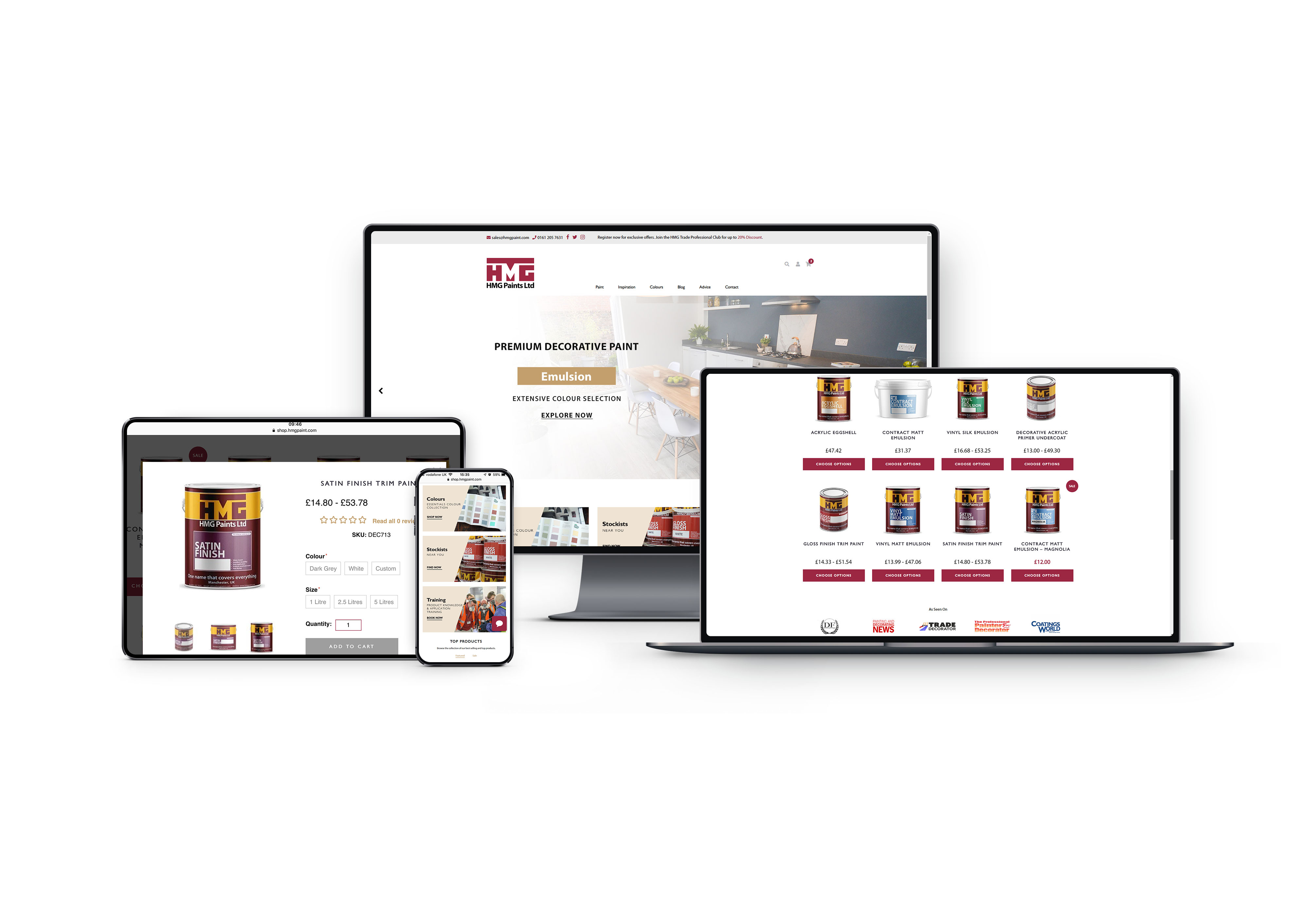 Working in partnership with Manchester based E-Commerce consultancy and marketplace specialists, Digitl, HMG have created a fully responsive online store, for both customers and stockists of HMG's Decorative coatings range. "We are delighted to announce the launch of our first ever E-Commerce website, giving our customers access to everything they need in one place at their fingertips. The multi-device access gives our customers the freedom to make a purchase at any time of the day and from any device. Keep your eyes peeled for discounts, product launches and other exciting information on our social media channels." Said Gracienne Ikin, Communications Manager HMG Paints Ltd.
Developed over the past 6 months after success with the decorative paints range in the professional painting and decorating market, the E-Commerce store will offer HMG's water-based decorative coatings, UPVC coatings as well as kitchen coatings, with additional options for colour matched products to consumers specification.
The new website allows users to post product reviews, book training sessions at HMG, sign up for HMG Trade Professional club, and browse inspiration content including the latest product launches. "This is an exciting milestone for HMG, our Decorative collection is suited for an E-Commerce strategy and jumped out as the place to start with our digital growth journey. We look forward to expanding the store and have plans to offer more of our vast portfolio of products in the coming months" said John Falder, Managing Director HMG Paints Ltd.
HMG Paints Ltd is a family owned business situated in Manchester. Now the UK's largest independent Paint Manufacturer, HMG are proud to work alongside customers to create the very best individual service and tailored solutions for them. With a broad spectrum of knowledge and expertise HMG boast a portfolio including wet paint, powder coatings and aerosols, covering virtually every type of surface imaginable. This is all backed by an extensive 87 years' experience in developing pioneering coatings for a myriad of industries including; industrial, specialist industrial, automotive, commercial vehicle, defence, aerospace, wood finish, decorative, arts & craft, marine and rail, we have a drive to set the standards for the industry not just meet them.
Visit
shop.hmgpaint.com
to place your first order now and sign up to the HMG Trade Professional Club for 20% off all orders. Follow HMG Paints on social media –
Twitter
@HMGpaints
Facebook
/HMGpaints
Instagram
@HMGpaints
If you require further information on the press release, please contact:
Gracienne Ikin or Stephen Dyson
HMG Paints Communications
gikin@hmgpaint.com or sdyson@hmgpaint.com
0161 205 7631